How Rugsdirect.com drives HUGE sales through social media (Case Study Part 2)
Coming off of their website conversion audit in Part 1, Part 2 reveals major aspects of Rugsdirect.com's social media strategy in order to provide you an easy to follow playbook for you to implement in your own rug business. I'm going to go through their different social media accounts one-by-one and dissect exactly why they are so killer (or not so killer) at driving sales and engagement from social.
If this is the first article you've discovered in my multi-part series then please feel free to browse around at parts 1-5 so you can focus on the things that matter to you most.
Part 1: Their Conversion Tech & Landing Page
Part 2: Their Social Media Strategy
Part 3: Their Inbound Marketing Strategy (SEO)
Part 4: Their PPC Game
Part 5: Their Email Marketing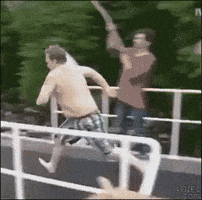 Without further ado, let's get dive in!
Part 2: RugDirect.com's social media playbook revealed
Instagram
Instagram | Bio
First thing I see is a fairly active Instagram with +21k followers – definitely a reasonably solid brand presence. Their bio is plain and direct to the point, their CTAs prioritize viral sharing from their newly acquired customers asking them to tag them in posts with their new rugs. After that, they throw in their major value ads (savings, free shipping) and then prompt users to click to shop.
Room for improvement: The bio seems a little drab, I have seen bios include emoji's to make it a bit more lively. See these profiles for inspiration:
Instagram | Stories
If you're posting on Instagram but not posting stories you're really leaving a lot on the table. Rugsdirectis definitely not leaving anything on the table when it comes to their stories. They have new stories pretty much every day with a wide variety of engaging posts. The nice thing with stories in general is that they're temporary (so the content doesn't have to be perfect) and you can interact with your audience on a daily basis without making a post that will be there forever. Take these posts below for inspiration for your own Insta.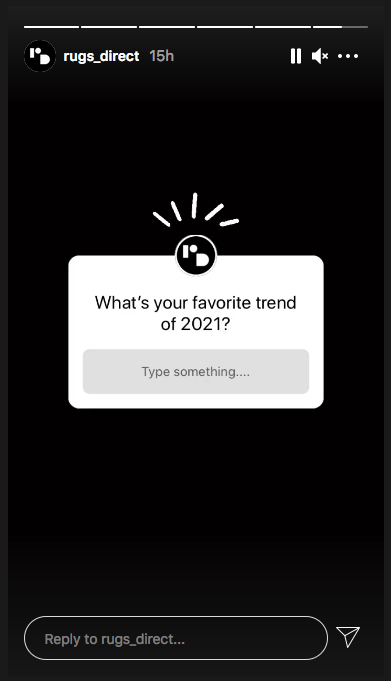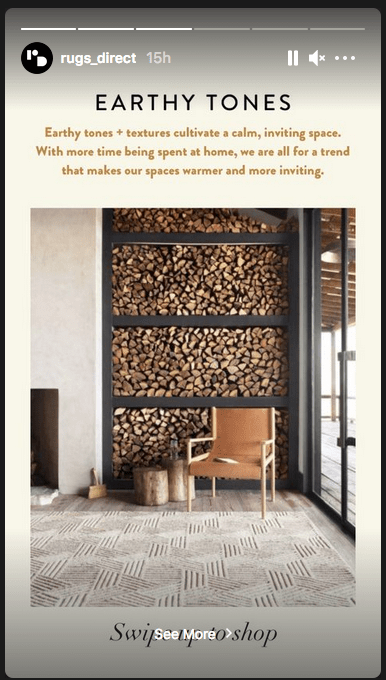 Room for improvement:

While the actual stories themselves are engaging they make a big miss by not having any highlighted stories on their Insta. Highlighted stories are stories that you previously posted that you can choose to keep up as long as you want on your profile. Think of it like pinning a post to your profile, it makes stories semi permanent showing off your most engaging and evergreen stories.
For inspiration on best practices for pinning Instagram stories for your rug business checkout these profiles below!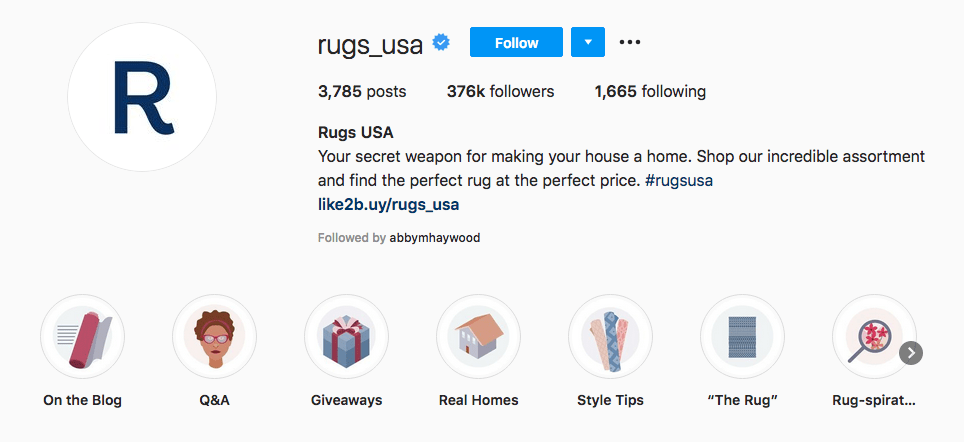 Instagram | Posts
Now let's look at some example posts:
As you can see below all their posts have a similar aesthetic to them, clean, stylish, trendy, and most of all inspirational!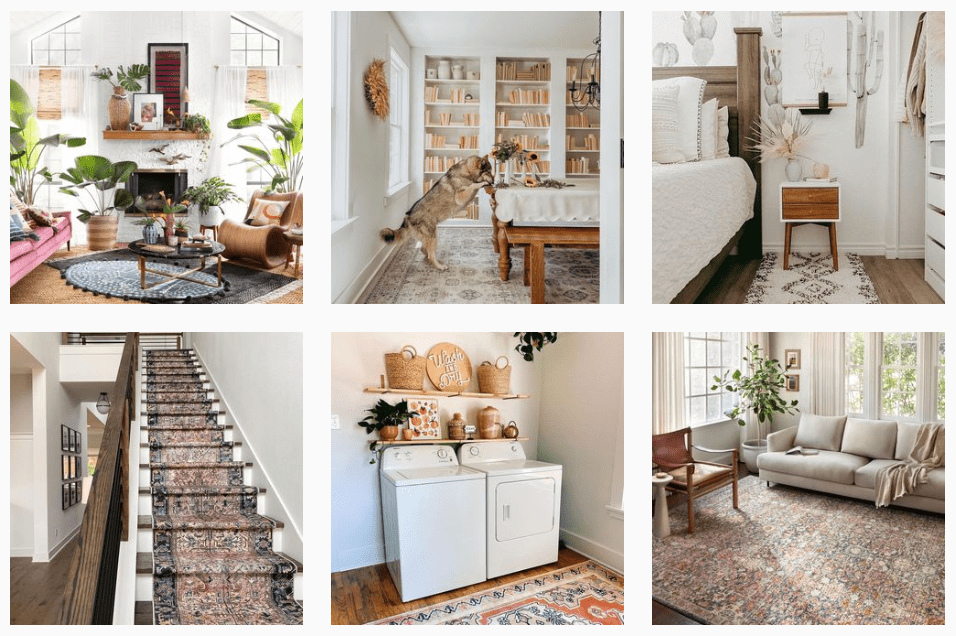 Everyone likes a good shout out and if you look at their posts in detail a significant percentage of their posts are actually them shouting out customer submitted content. People love showing off their home so encourage them to submit pictures by offering them to repost their photos on your page. They even advertise it on their homepage!

This is a great viral sharing factor and just think, if you were a designer that just pulled off a great look with a carpet from Rugsdirect, wouldn't you want to submit that to have them repost it and potentially get more customers your way??
Instagram | High Performing Posts
By analyzing their most high performing posts, we can learn from one of the giants in the space for how we can architect our own Instagram strategy. You can see the highest performing posts above, but let's take a deeper dive into these posts so we can see what exactly made them so high performing.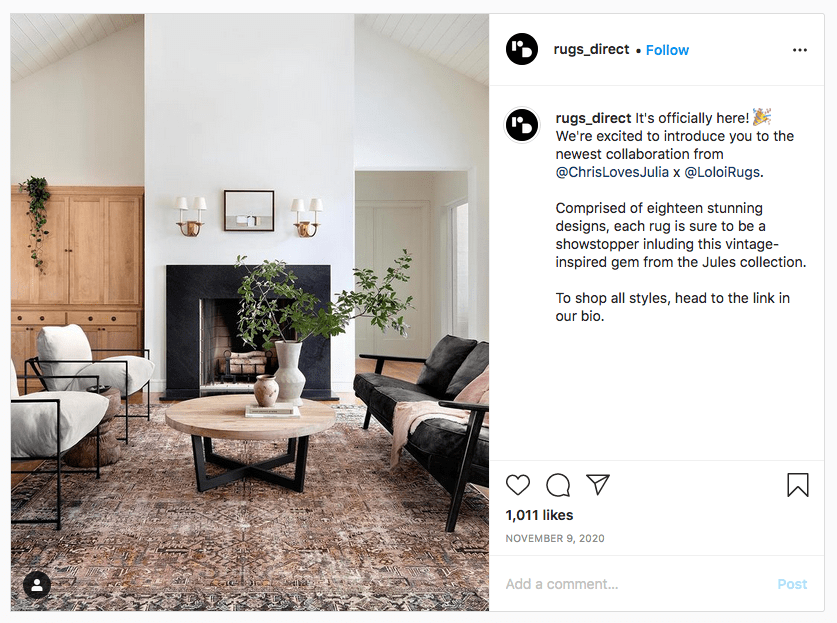 The 1st one here has over a thousand likes (double what any of their previous ones has) and we can attribute that to one simple thing: influencer marketing.
Rugsdirect partnered with Loloi rugs and home goods influencers Julia and Chris who both have over 400K followers each.

What's cool is we can actually see EXACTLY how many followers they gained during the time this post was made (Nov 8th- 12th)

In a matter of days they added over 400 followers to their Instagram, that's 400 new potential customers viewing their content everyday from now on. Pretty solid for a single post! We can also see that they majorly stepped up their game where in 2019 they only made 44 posts whereas in 2020 they made 157 (almost a post every two days).
Their 2nd most popular post was a viral giveaway for two $500 gift cards to spend on their site as thanks to their followers for hitting 20k followers.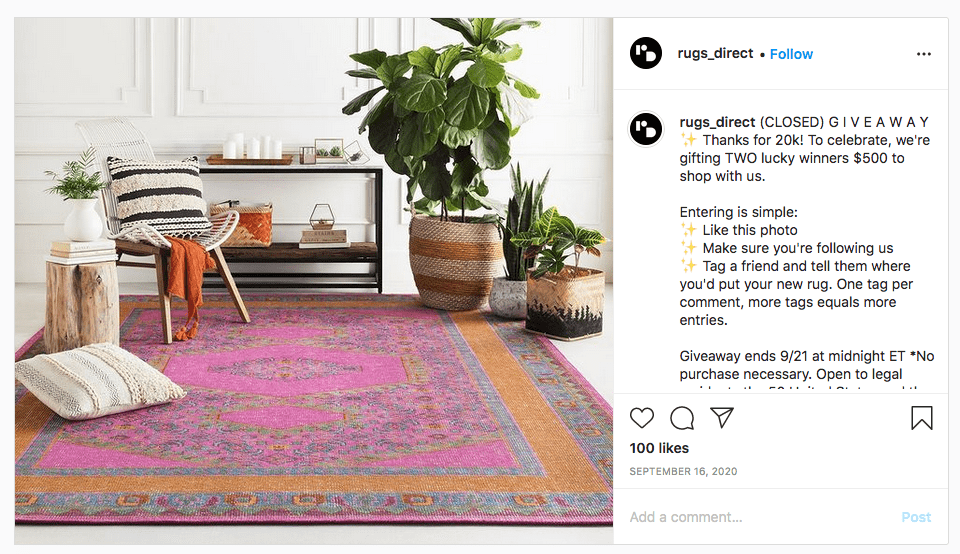 With this one giveaway they were able to generate over 500 comments and 100 likes on this single post. (One thing they should have made people do is follow their page as well, they missed out on a massive follower boost because of this).
Periodic viral giveaways are a fantastic way to gain followers and engagement with your content, it's just another great viral growth tactic many brands use. It looks like according to their Insta, they did 3-4 of these in 2020 – once every quarter. Honestly I think this is the kind of thing you could done once/month and if you coupled it with some influencer marketing you could get an even better viral feedback loop going.
Lastly here are their top 10 most frequently used hashtags.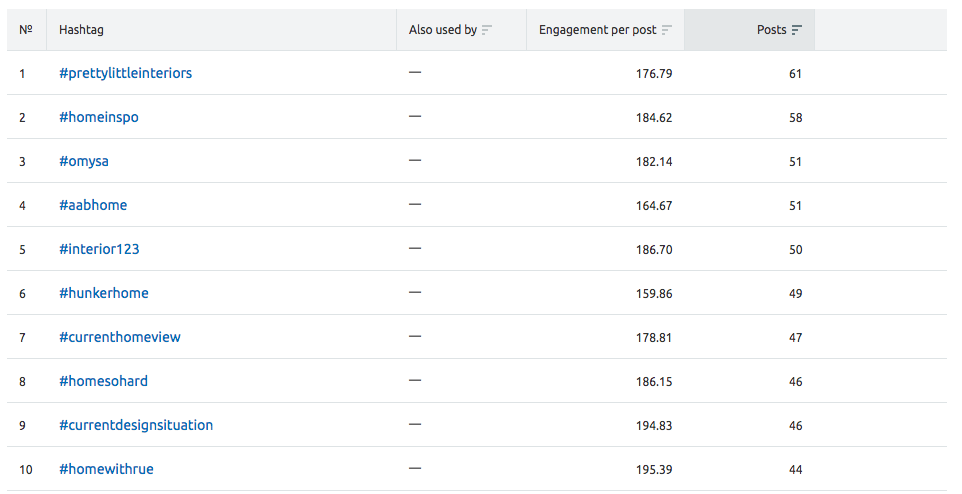 Instagram | So what should you do for your rug ecommerce business?
Stories:
If you're on Insta you must have… Stories Stories Stories!!  Check out the Rugs USA Insta  for a masterclass in how to run Insta Stories for a rug company. Take notice that they have a wide variety of stories including a highlighted story completely dedicated to giveaways!
Influencer marketing:
Partnerships and influencer marketing are a great way to drive engagement by leveraging viral growth factors. Once you get it up and running it's a flywheel that will give you non-linear returns on your investment. Below are some absolute must reads if you even have the slightest interest in getting an influencer/affiliate campaign setup for your rug company:
Hash tagging plan:
A dedicated hash tagging program is vital and that's something I saw several of their posts lacked. If you're wondering where to find the best hashtags for your particular niche, we've used freelancers on Fiverr to do this with great success and very affordably. Definitely enough to get you started. They will help you identify hashtags that are not super competitive but that have a lot of traffic running through them.
Giveaways:
Monthly or quarterly giveaways are great, but they're better when more people see them. Consider driving Instagram ads to boost these posts, and partner with other more popular Instagram accounts to spread the word.
Pinterest
Allrighty, up next is their Pinterest presence! With +16k followers and a whopping 1.2M monthly viewers these guys are killing the Pinterest game, let's dive into how exactly they're generating so many views on their products.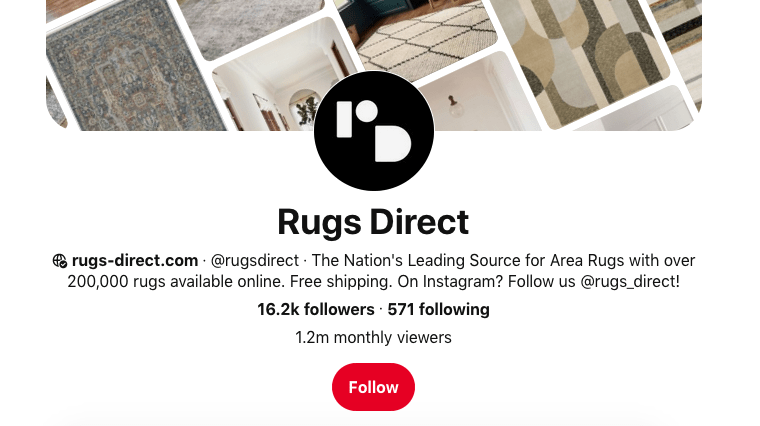 Pinterest | Pins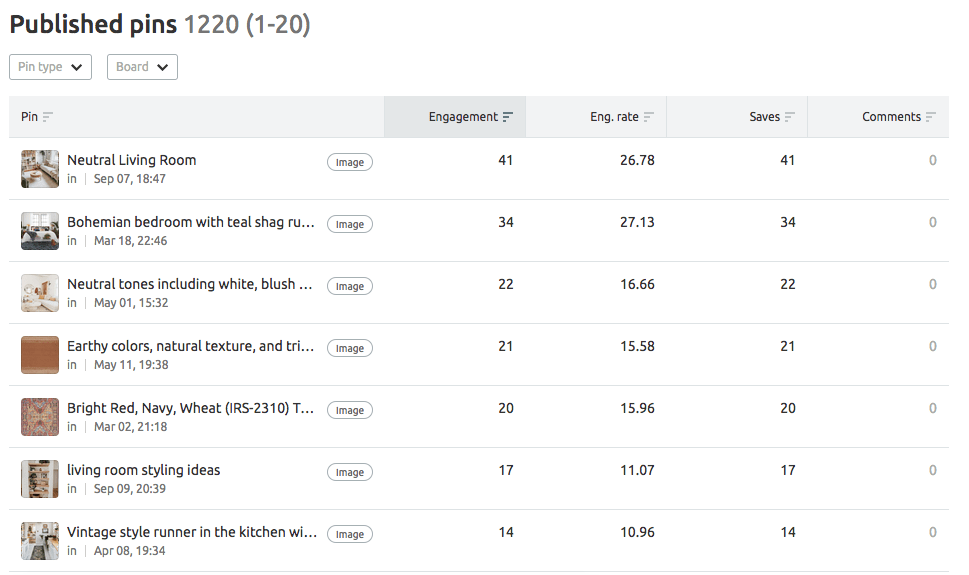 The first thing I am seeing here is that they pinned 1,220 Pins in 2020 alone…. And so far in 2021 they've added 24 pins in the first 10 days of January.
What you'll notice is that their most highly engaged pins trend more towards what the overall trends are, in 2020 neutral earthy tones were (and still are) in chic and you can tell that based on their engagement.
In total they have over 10k pins which means someone has been doing some work over there!!
And with the way pinning works on Pinterest, it doesn't mean they generated all those pins, a lot of them are actually other account's popular pins to which they are adding their own CTAs and links to them.
It seems like judging by their consistency they have some sort of automatic tool that posts whenever they add a new product, here are a couple that you might find helpful!
Pinterest | Follower growth

Tracking their followers they were able to add 3000 followers between April-Dec 2020 which is really solid growth, That would account for and additional 200,000 monthly views on Pinterest just in that time period alone! As you can see it was very linear growth meaning that consistency works! Even if you're plan isn't perfect consistency is key when it comes to Pinterest and social media as a whole.
Pinterest | Top performing boards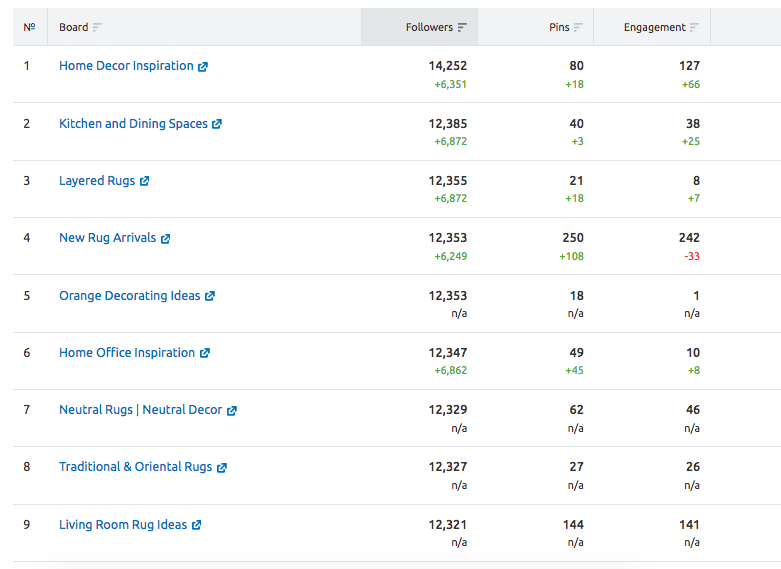 What's the common thread amongst all those boards?? They correlate exactly with the different categories on their site, and they do that for continuity, but of course to make sure they target all the different buyer personas. They're casting as wide a net as they can and the proof is in the pudding, this team is doing great on Pinterest.
YouTube
I mentioned before in part 1 that video > photo and RugsDirect really takes this to heart with their YouTube channel.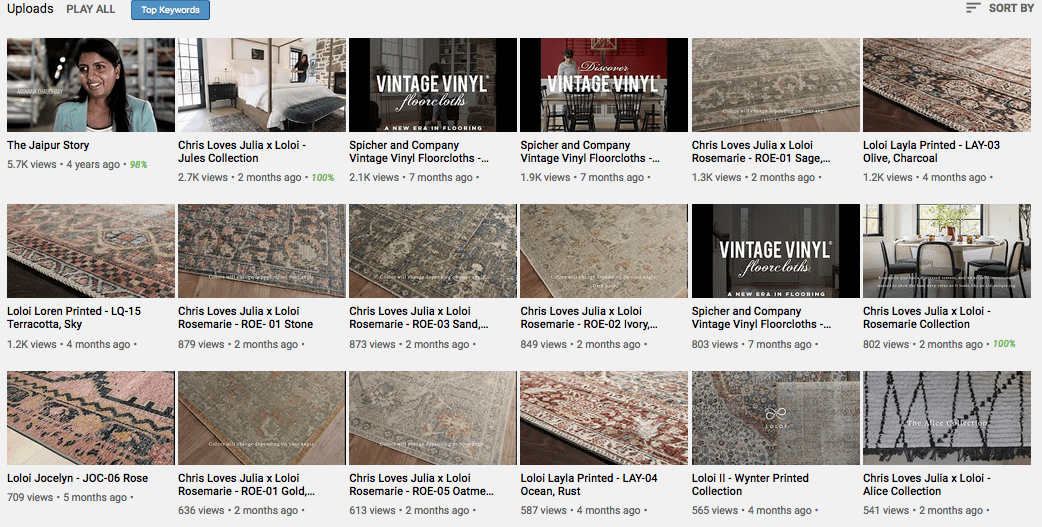 You can see that their YouTube channel is a repository where they host all their product videos on. This is good for one main reason, YouTube is the 2nd largest search engine (no it's not Bing!) and if someone searches up a particular carpet that RugsDirect so happens to have a video of on YouTube, that video will show up in a potential customer's google search.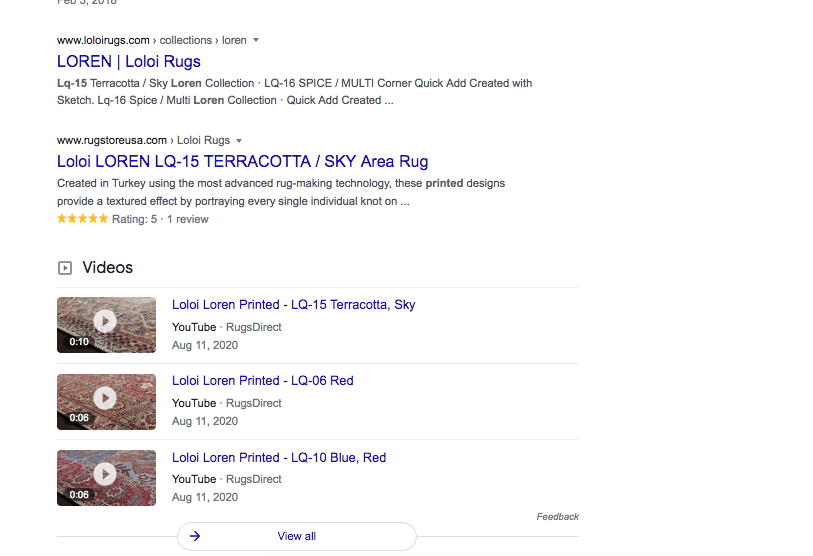 You can see that these videos shoot up on page 1 when you search for a particular product. This is just more inbound SEO traffic that you can get and in a perfect world, we'd all have great HQ videos of all of our products online.
Now if you lack video content for your rugs because you lack a full photo studio. You can use photo realistic 3D renders to convey the same effect. Below is an example of a 3D rendered video Floori recently did for Vaheedtaheri.com
Feel free to contact us if you're looking for any product merchandising help, we also do static renders and of course have a fantastic rug visualizer that allows customers to upload photos of their own rooms and browse your rugs in their spaces!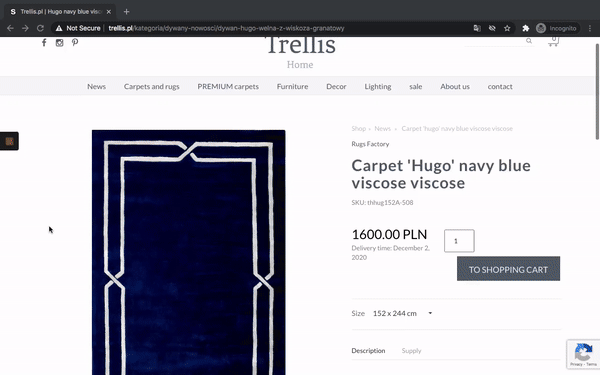 Website Audit, Social Media Audit… what's next?

If you've gotten to the end of this article you're clearly really curious about how you can make your rug businesses even bigger. Hopefully after going through RugsDirect.com's social media playbook you have some more inspiration for how to make social media work for you.
Stay tuned for our next installment in this series where we go over their SEO gameplan and how they are driving thousands of their visitors to their site completely organically with the power of inbound content.
If you want it emailed directly to you just drop me a line at yousef@floori.io 🙂
Zarezerwuj bezpłatne demo: