CAD Texture Generator – manual
Introduction
From now on every Floori user will be able to generate a floor by using the CAD Texture Generator. This tool generates the floor based on the texture of a particular color in a given size and format. If you're looking to save time and abandon manually creating a floor using single tiles look no further!
Table of contents
Log in to your account
Choose color

 Select tile size
 Choose texture width
 Choose texture height
 Select pattern
 Select format

Generate url link / Download
Manual
1. Log in to your account
Use your email and password to log into your Floori account. If you have forgotten the password, don't worry – you can use the forgot password option beneath. If you need to recover your password you can also use https://portal.floori.io/recoverpassword.

2. Choose color
To find the color you want navigate through manufacturers and categories.
When you find the floor, click edit (pencil icon). It highlights yellow when you hover over it.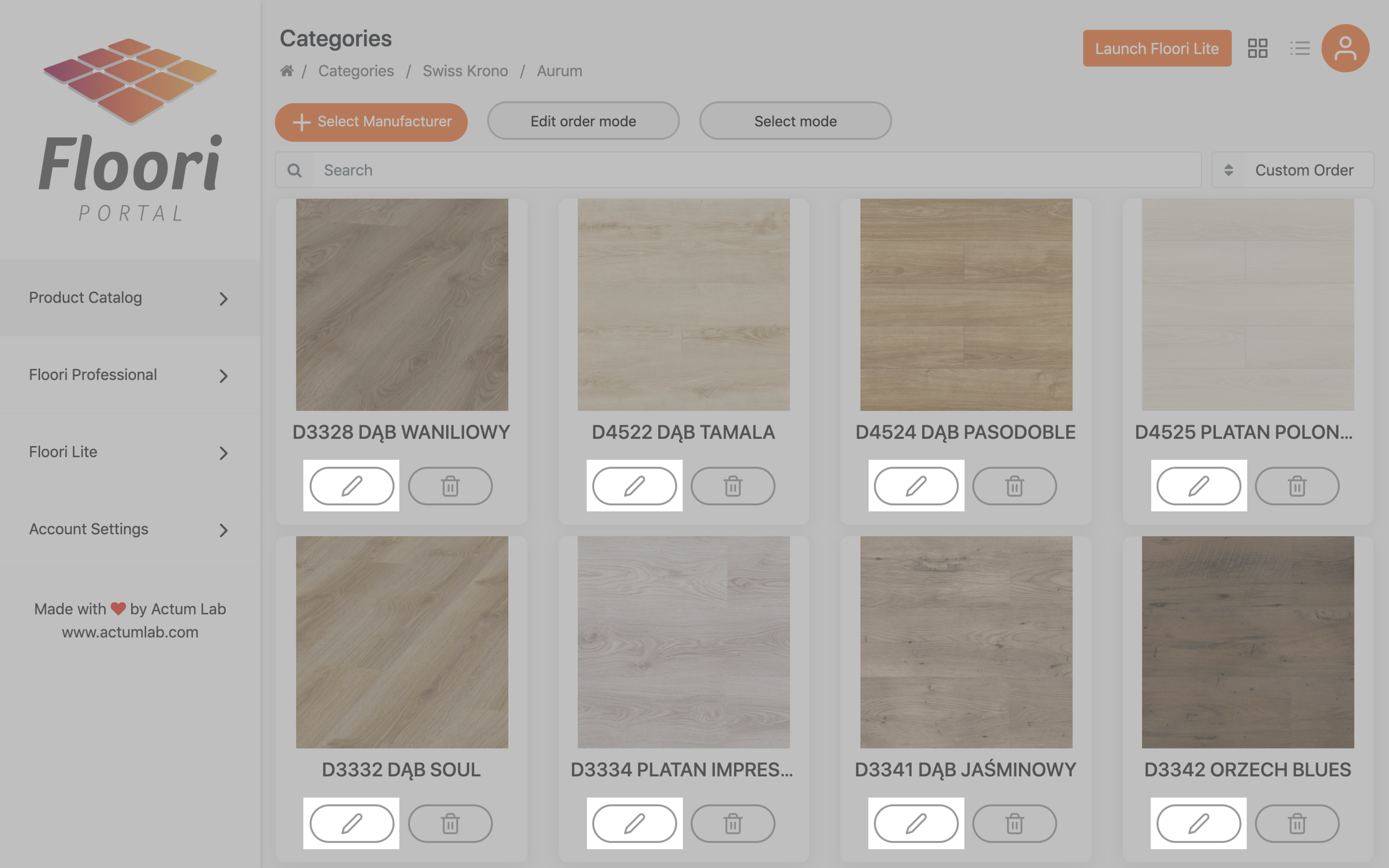 Now you're editing floor. Choose the "Pricing & Options" tab.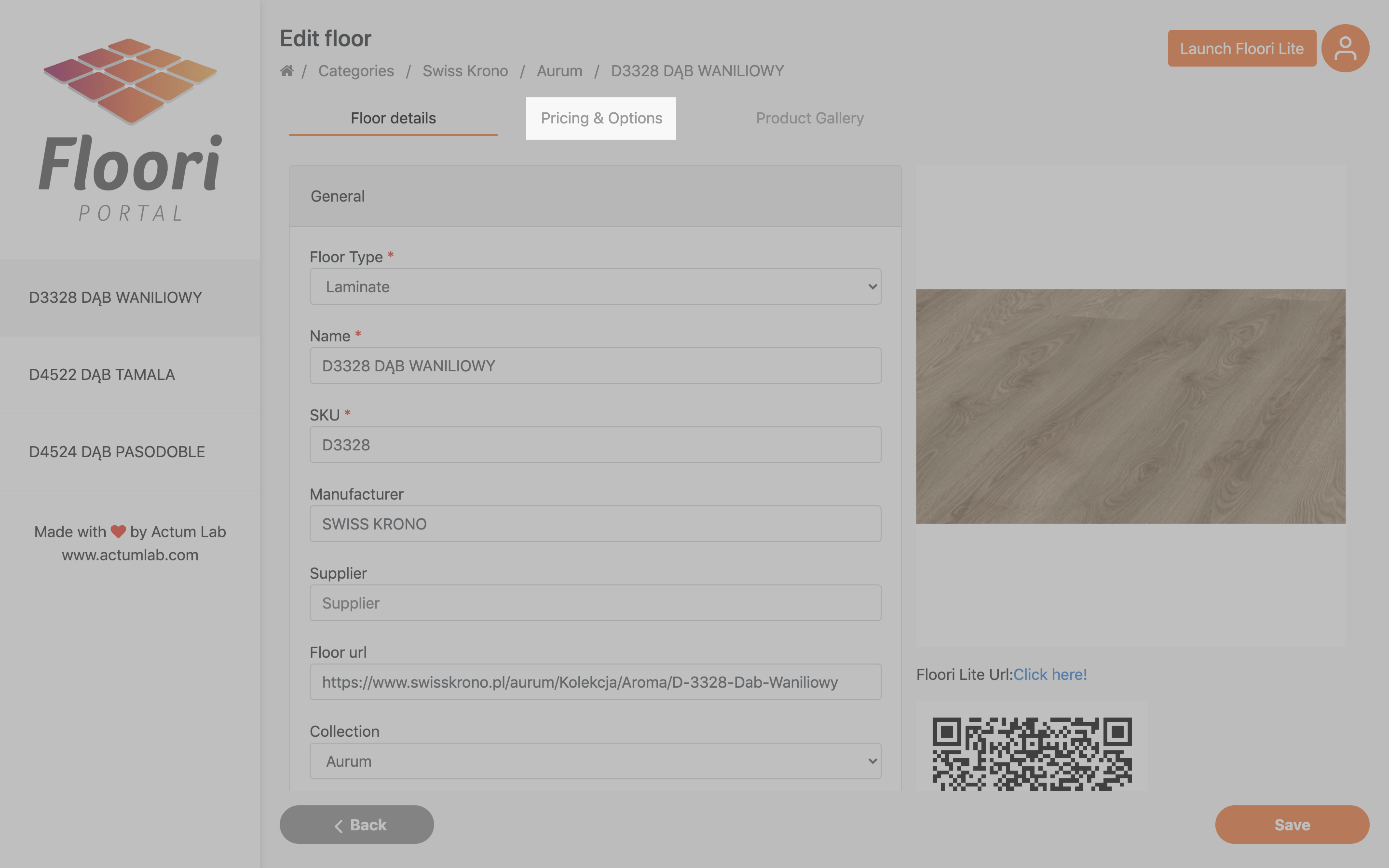 Then choose the "CAD texture" button on the left side menu.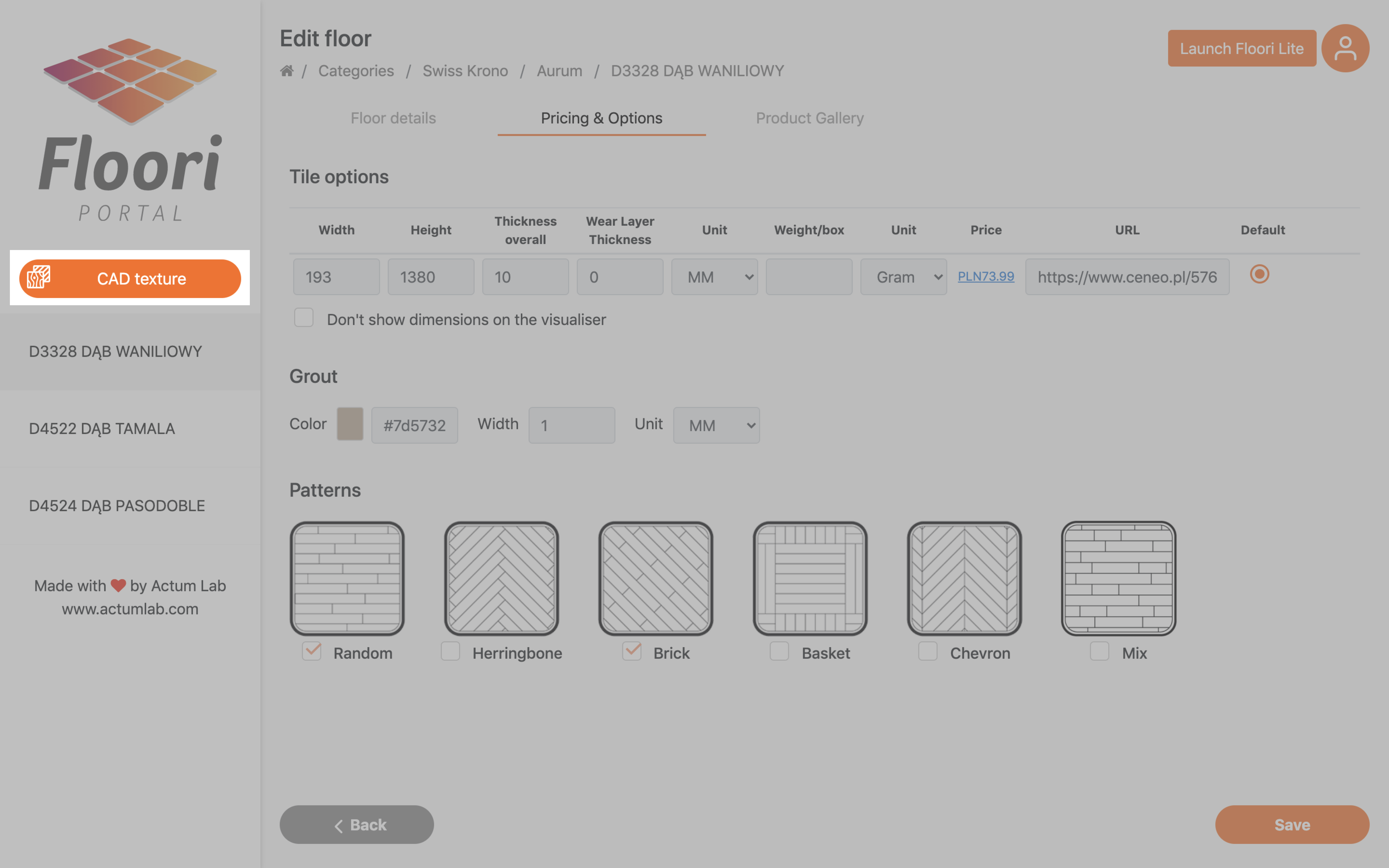 It will open up the CAD Texture generator.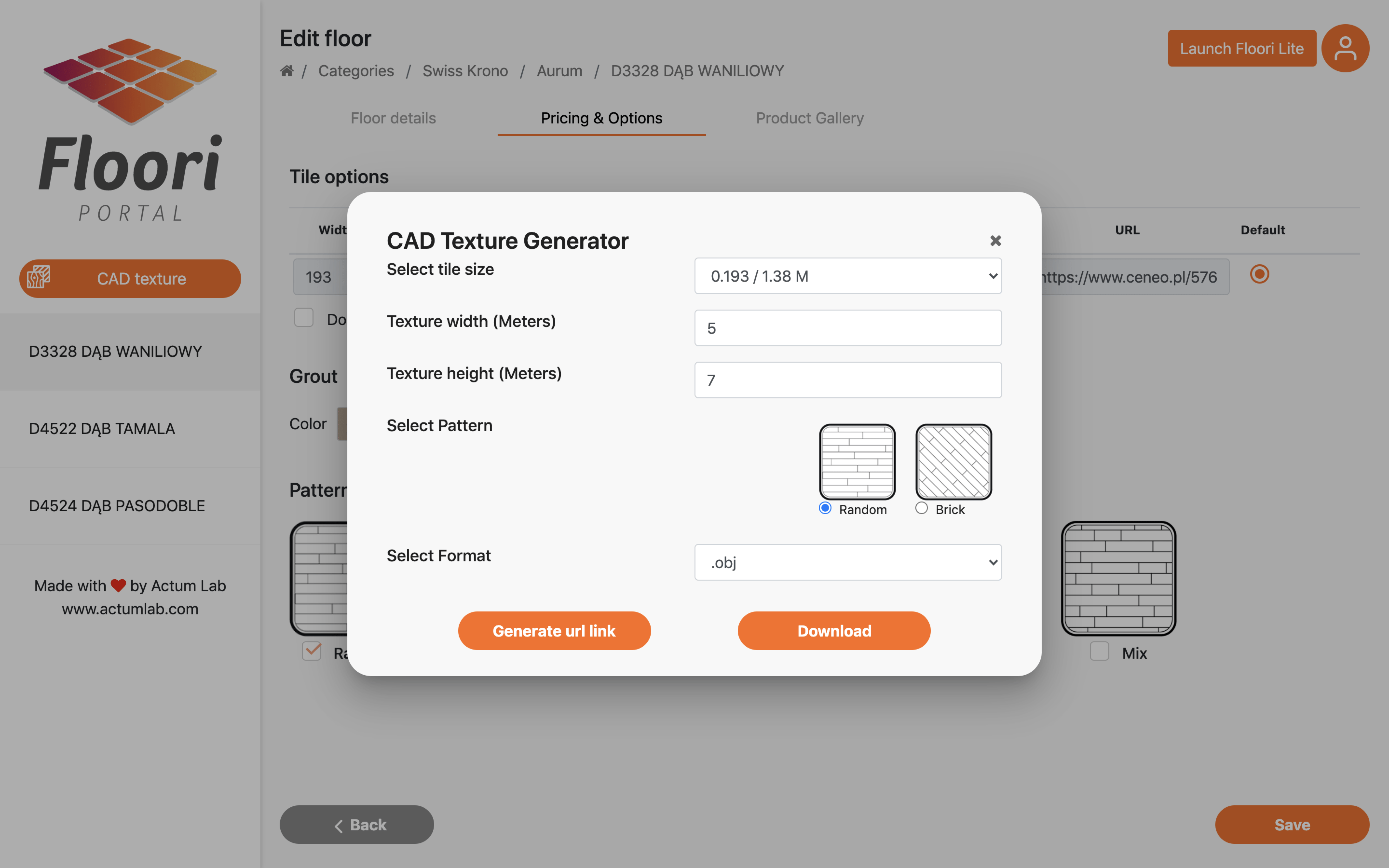 1.  Select tile size
If the floor comes in more than one size, you'll be able to choose the size you want from drop-down list, after clicking the arrow on the right side.
2. Choose texture width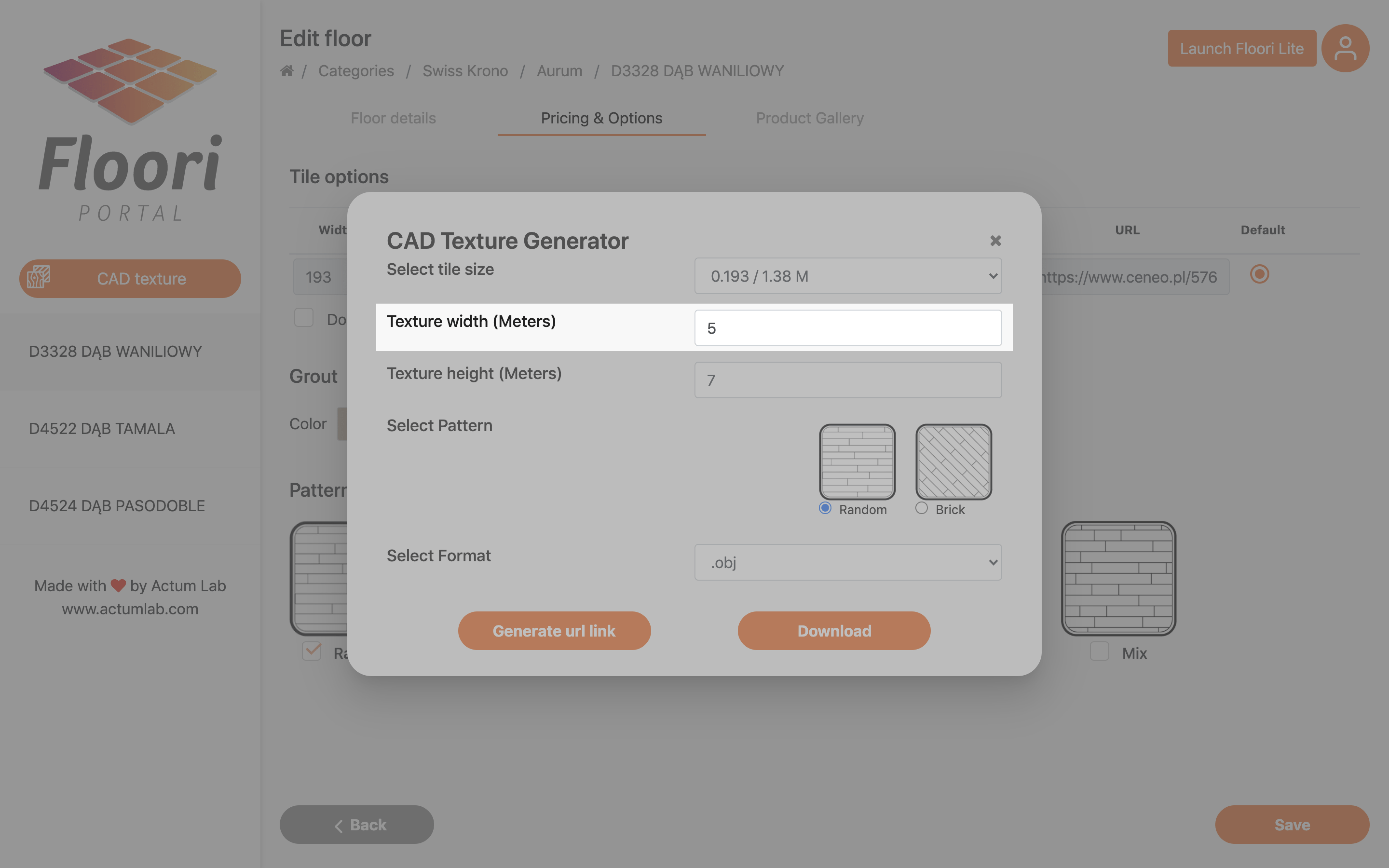 3. Choose texture height
4. Select pattern
5. Select format
Available formats are .obj, .gltf, .glb and .dae.
3. Generate url link / Download
After setting things up you're ready to get the generated texture. You can download it directly or generate URL link.
To download directly click "Download button".
It will give you an archive with everything you need.
If you want to generate URL click "Generate url link" button.
After some time (it can take few minutes) you should see a pop-up like this one below with the link.
Tip: Click two papers icon on the right to copy link to your clipboard.
Any questions? Feel free to contact us at Hello@Floori.io 🙂