The Best Tool to Improve Your Rug Sales
Have you ever thought about how hard it can be for your rug company customers to buy new rugs?
Let's list the reasons why customers hesitate.
First, it is a large and heavy item. The logistics of ordering and getting it home is very difficult. 
And most of the time, the pictures from your gallery don't show the rugs in all the bright colors and details. So, it can be hard to imagine how the rug will suit the ambiance of their home. In addition, having a sense of space to see if it will fit in their room can be very difficult.
Finally, you, as a rug company manager, must understand that your customers hate returning as much as you hate seeing them return. The inconvenience of buying something expensive, trying it out in their room, packing it again, and sending it back to the store is very stressful for both parties. 
With all those justifications, understand that the fear of commitment from your customers is more than reasonable. This is why the shopping experience must be one of the top priorities for rug store managers.
IMPROVE YOUR STORE'S SHOPPING EXPERIENCE
For a rug store, a positive shopping experience is crucial for success. It can lead to customer loyalty and word-of-mouth recommendations. Displaying products well, providing helpful customer service, and creating a welcoming environment are all essential to the shopping experience. By prioritizing this, your rug company can increase its reputation, customer loyalty, and more importantly, the actual sales of the company's products.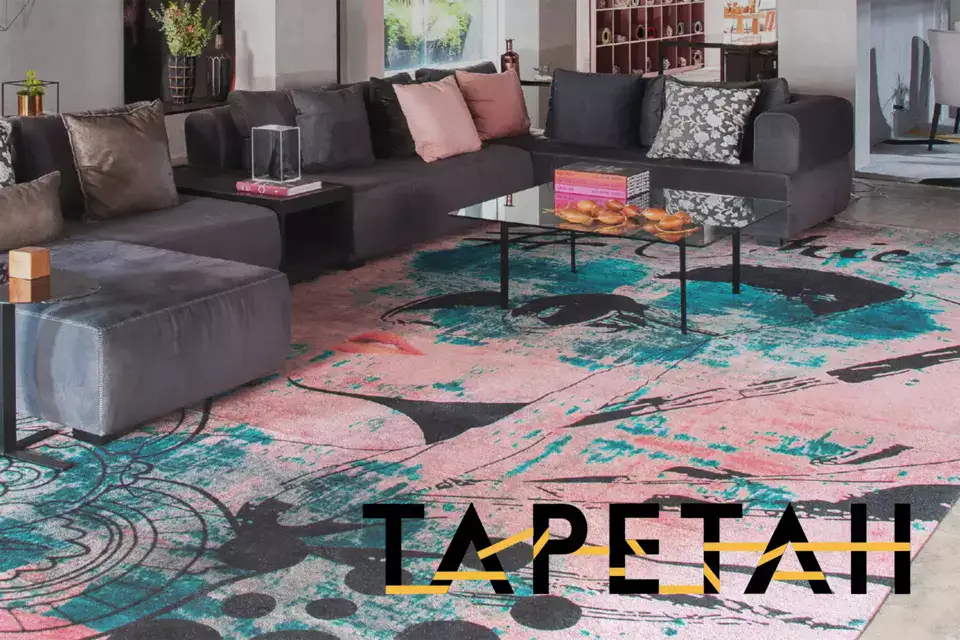 There are many ways to improve your company's shopping experience, but today we've chosen to present you with a very sophisticated, but easy-to-use sales tool. The image you see above is from Tapetah. A Brazilian company that has been using Floori Visualizer to assist with its sales online and in-store. This tool is designed for home goods businesses to improve their customer experience, by helping the customers buy faster and more confidently. 
A rug visualizer is a tool that allows customers to see how a rug will look in their space before they buy. It revolutionizes the rug-buying experience by providing an immersive and convenient way to shop for rugs. Customers can experiment with different colors, patterns, and sizes, reducing the risk of buyer's remorse. This technology saves time and makes shopping more efficient and accessible. Ultimately, a rug visualizer enhances the shopping experience by making it more personalized, interactive, and stress-free.
Now, let's dive into this tool:
I – How does a Rug Visualizer work?
The use of this tool is very simple. Your customers will just need to snap a picture of their room, upload it on the website and choose which rug they want to see in their selected space!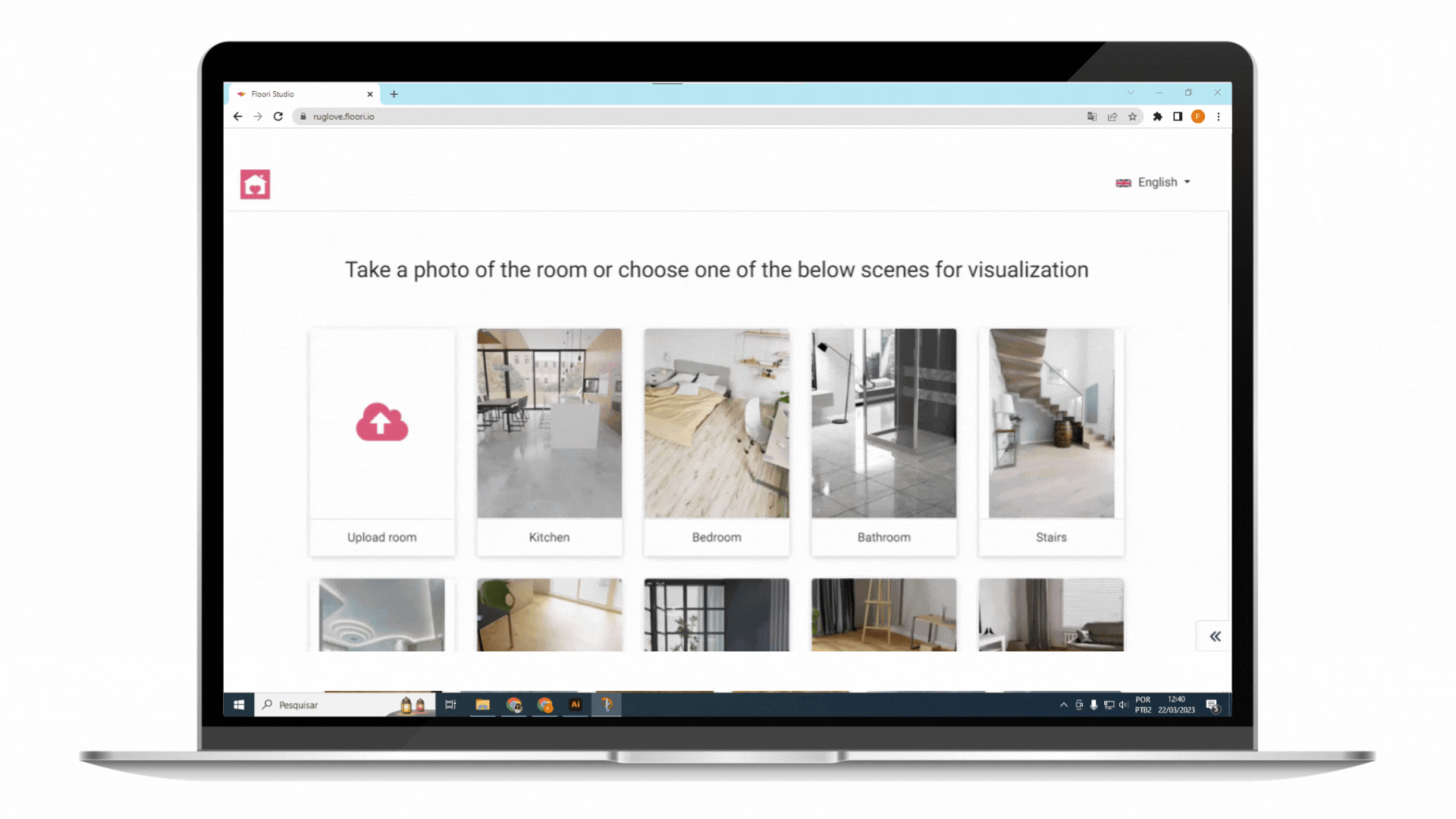 Seeing the product even before buying is what can make your clients see the quality of your rugs. Therefore, having a tool that can make your customers see your products in action is not only great for your clients, but also for your whole rug company. 
II – How is the implementation done?
The best thing about the Floori Visualizer is how simple it is to implement on the website. Since the tool is browser friendly, there's no need for complicated software or specific apps. It just requires a simple line of  HTML code implemented into the settings of the website.
III – Does the visualizer only impact the customer's shopping experience?
It's also important to highlight how the visualizer helps your SEO rank on Google. When more people visit your website and keep it open for a longer time, the search algorithm understands that your domain is popular. Google then suggests that more people would like to see it. 
In addition, by choosing the Floori Visualizer you have updated data on all your customers' behaviors in the software, tracking very important data that you can use to think about other strategies.
IV – Showroom 24/7 for all company types
However, having a website might not be in your company's plan and you might be wondering why you should purchase a tool such as the Floori Visualizer. 
The video below shows how our flooring store customers are using the visualizer in-store, with a QR that is generated on Floori Portal.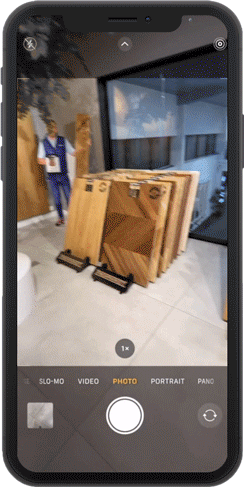 V – What other benefits will my customers experience?
With all this in mind, the problem with your customers having some difficulty picking your rugs has a very obvious solution. Here's how the Floori Visualizer can benefit you and your clients to buy faster and more confidently.
LET YOUR CUSTOMERS SEE IF THE RUGS COLORS MATCH THEIR ROOM
Remember when we talked about the ambiance in a room? Knowing all colors and patterns available on your rugs will allow them to see which one will fit better in their room. With our visualizer, you can create a complete catalog of your products, so your clients can test every single rug – and its variants – in their room. 
SEE IF THE SIZE FITS IN THE ROOM 
As we said, having a sense of space to know if the rug will fit in the space can be quite challenging. With that in mind, we developed a customized button where you can insert any helpful tool. As a suggestion, we have our rug scale feature which shows how different sizes can fit in your customer's space.
TRY DIFFERENT STYLES 
Testing all different variants of a rug is a great way to make your clients feel more confident in deciding which of your products to buy. When they can see how certain rug styles fit better in their selected space, they will not only make sure it will work, but they will desire the product even more.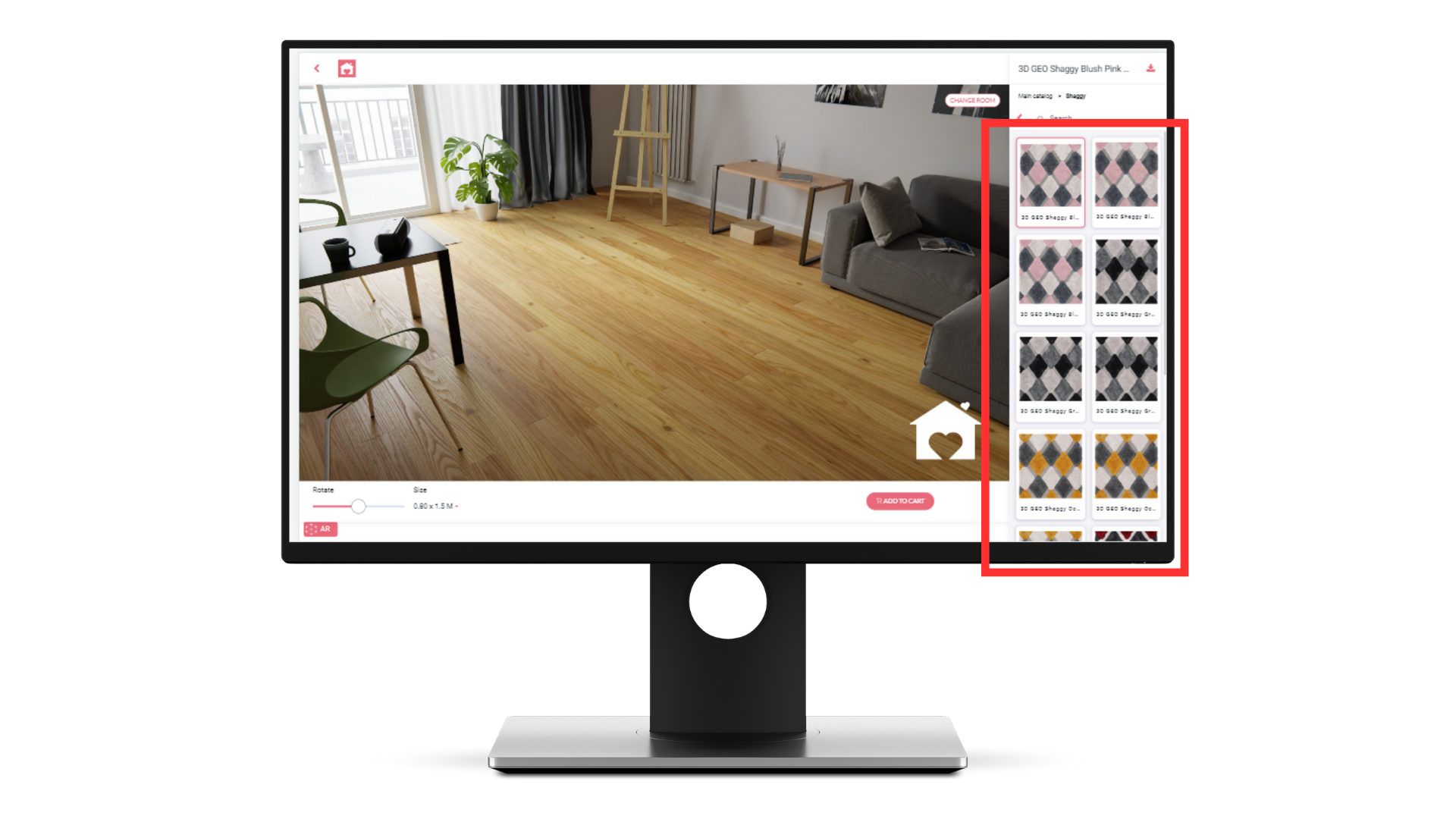 IN CONCLUSION
Buying a rug is very expensive and takes a lot of commitment. Making 100% sure your customers are buying the right product for them can be time-consuming. However, with our Floori Visualizer, all these doubts can be suspended. Adding an interactive tool that can help your clients and give them a deeper understanding of your products can create a trusting relationship with your rug company.
At the same time, with all of its other features, you can keep track of the most important data from your customers and stand out from the rest of the companies in the rug market. 
If you want to improve your services and make your rug or flooring company grow, follow us on Instagram, LinkedIn, and Facebook.