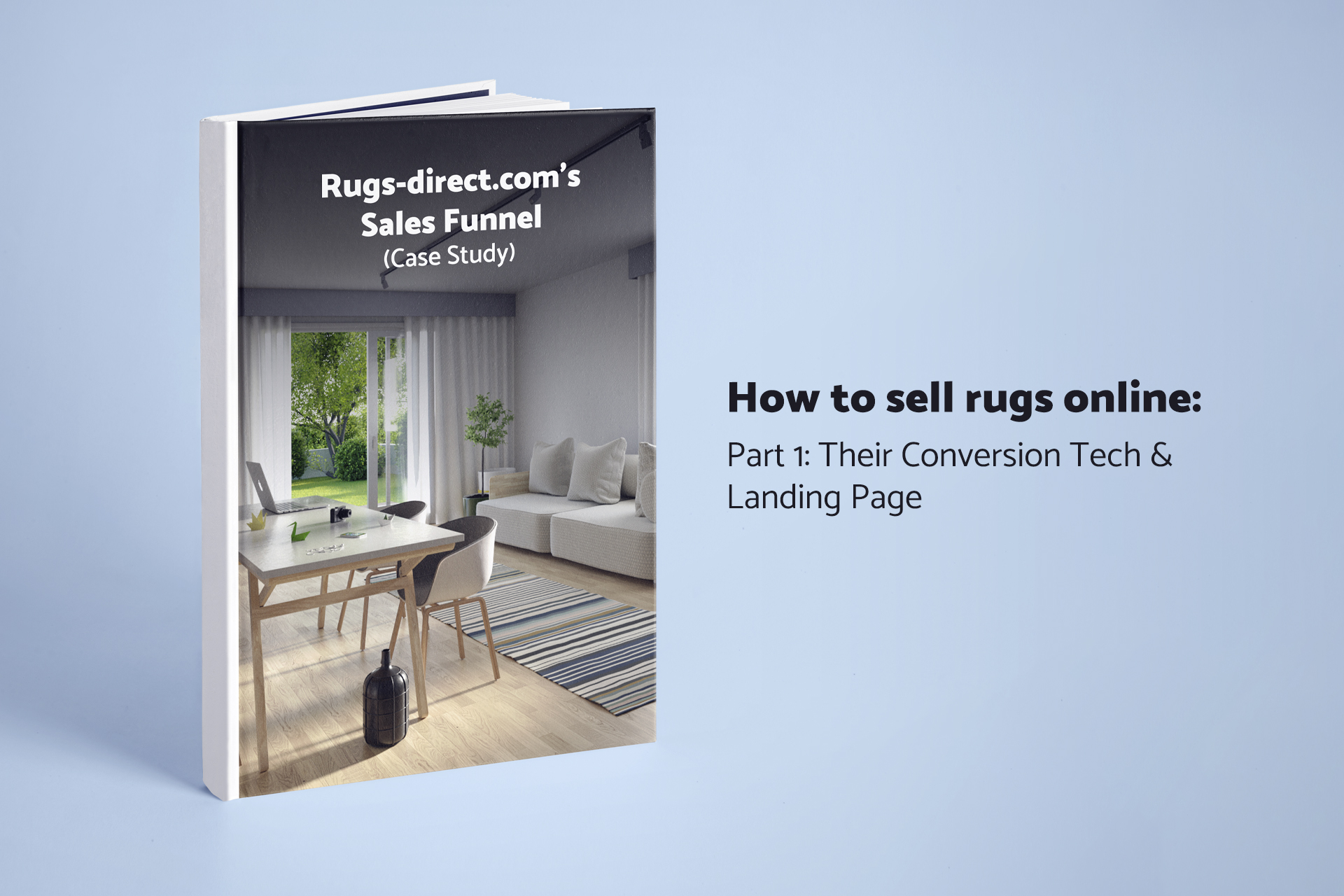 Re-engineering Rugs-direct.com's Sales Funnel (Case Study)
Bonus Material: Website Conversion Checklist
If you're in the rugs and carpet runners industry, you can't help but have heard about Rugs-direct.com.
After all they are either #1 or #2 when searching google for anything to do with area rugs. Needless to say they are an absolute monster within the rug industry.
But monster's don't have to be scary.
It is my goal to make you believe that, and to demystify how large E-commerce rug companies sell online. Take notes and adapt their processes so that you can become a monster in your own right. 
Over the next few weeks I'll be re-engineering their entire digital marketing playbook. 
Part 1: Their Conversion Tech & Landing Page
Part 2: Their Social Media Strategy
Part 3: Their Inbound Marketing Strategy (SEO)
Part 4: Their PPC Game
Part 5: Their Email Marketing
Get parts 2-5 in your inbox!
No need to sign up twice, If you signed up for the checklist I'll send you parts 2-5 as well 🙂
Part 1: Conversion Tech & Website Audit
Okay first things first, let's understand how they convert site visitors into leads, and buyers. 
The very first thing that I saw as a user was this email sign up for in exchange for a 10% discount.
Some sites will have this type of pop up show up as a user is exiting their site, and some will pop up as soon as you arrive onto a specific page. Both can and will work, and if you haven't A/B tested them, it's probably a good idea to because you never know you might be surprised!.
Discounts for emails are still
King
If you don't have some type of lead magnet or email subscriber pop up form on your site, this is the first thing you need to setup before continuing on. I can't tell you how many companies I've talked to that don't do this simple thing, if you're not capturing emails and nurturing them you're simply leaving cash on the table.
It's shown that email pop ups like this can convert up to 9% of your site traffic so don't miss out on these email leads!
Diverse CTAs for diverse shoppers
The next thing that comes to mind is their overall website layout, and the enormous amount of CTAs and custom offers they have that will (IMO) cover pretty much every type of buyer out there.
HUUUGGEEE Time sensitive Flash Sales

Augmented Reality Rug Visualizer

Shop by Size

Shop by New Arrivals

Shop by Best Sellers

Niche and timely offers (Home Office – very relevant these days)

Shop by Manufacturer
Why should you have so many offers on your site like rugs-direct?
Because your shoppers all have different tastes and priorities.
It's really that simple, one shopper might come to your site after looking at a particular manufacturer's site. Another might have come from Houzz and have seen a beautiful water color rug that they want to find a match for. Accommodate for every different type of shopper
Cast as wide a net as possible when engaging visitors on your site, because everyone is looking for something different and you don't want to have someone bounce from your sight just because you didn't give them any targeted offerings.
My favorite CTAs
It's no surprise that my favorite CTA (call-to-action), and likely their highest converting, is the rug visualizer feature of their site. AR (Augmented Reality) has been shown to boost conversion rates by 30-50% compared to products that don't have any AR visualization features. 
SQUEEZE MORE OUT OF YOUR TRAFFIC SPEND NAOOO!!  (Arnold Schwarzennegger style)
Here's an example of an AR rug implementation we did for the UK's largest rug company runrug.com
Want your first 50 rug products converted into AR for free? Let me know below and we'll hook it up!

My second favorite CTA is this…
They have a separate email signup for B2B customers, they call it their "trade program" and to qualify, you have to go through their application process. They offer free-shipping, even better off-line pricing, and a number of other things important to B2B buyers. They specifically target interior designers and corporate buyers
Remember: Everyone shops differently. 
You could have the interior designer of a nationwide multifamily developer browsing your rugs and have found one they absolutely must have in their apartment complexes but without B2B tailored offers are you really speaking to them?
Do they understand that you are capable of selling at very large volumes? If you can… let them know!
Think that sounds totally unlikely? This exact situation happened last week to one of my customers and they captured that lead through their own B2B oriented lead magnet.
P.S. they're not even a big company!
Helpful blog posts are front and center
So so so so many companies think of their blog as an after-thought, they keep it on the farthest right side of their menu or somewhere hidden below in their footer.
But what about the undecided visitors? Those that need:
More style inspiration

More info on easy to clean rugs

More info on which rugs are most durable?
Are you going to leave them hanging? Or worse, back to google to search "Odor resistant rugs for dogs" only to find a helpful article on your competitor's site?
Main takeaway here: Put your blog posts front and center.
(if you need help with blog post ideas wait for part 3!)
Interactive Social-Proof
When you visit a store in real life, you can see with your own eyes how many other shoppers are there. You can tell whether or not it is desirable, if people have smiles on their faces and enjoying themselves. When we see an empty bar or restaurant, we get put-off right?
That's because humans trust each other's word and behavior more than any other advertisement out there.
If they see a busy restaurant people want to join the party. So how can you prove to online visitors that the party is actually at your store!?
By using Social Proof
They feature a gallery of customer uploaded and hash tagged Instagram posts featuring their rugs.  They also give us a way to interact with the social proof by uploading our own photos. On top of that, they're all on Instagram tagged #rugsdirectstyle and with one click of a button you can see the thousands of posts their customers have tagged them in.
For more quantifiable social proof, they have a badge that shows their 4.6 star rating on Google with the bottom right corner.
A few of my favorite plugins to use for social proof are:
Both I think are fantastic plugins and would be great additions to an E-commerce rug website.

Need a website conversion game-plan?
Scroll up to the top and grab the checklist I use when setting up a client's web presence +20 plugins proven to increase conversions.
Confront Potential Objections
"Ahh shipping is probably too expensive honey let's just go down the street"

"I'm not gonna risk it, what if it comes and it looks awful??"




"I just don't have $1,500 in cash right now for a rug"
Ever heard these objections from potential customers? I'm sure you have, but in E-commerce, you physically can't talk to every site visitor and counter these objections.
So what do you do?
Well, why wait for the customer to feel uncertain about a purchase when you can relieve them of their worries by clearly countering their objections with your on page copy?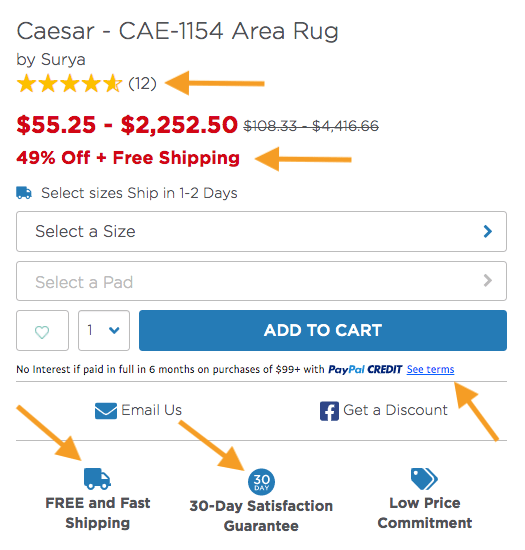 Do you see how they address all the potential objections upfront?
"Free-shipping on this product"

"30-day satisfaction guarantee" 

"No interest financing through Paypal Credit"
Notice where this objection-busting copy is placed on the page.
It's NOT on the bottom of their footer, or only on a banner on the front page.
It's all very close to the add-to-cart button. 
I have to really applaud their UI designer because they really made a compelling product page that I think everyone can take a thing or two away from their website design as a whole.
Videos > Pictures

Have you ever noticed that people can make themselves look ALOT better in photos than in person? Well the same is true for rugs. And with video, you're seeing the rug in a more raw form.
Ask your vendors to send you product videos for you to upload. Organizing all that with your supplier can be confusing but trust me you're doing your supplier a favor by putting their videos on your site.
Products with video convert 80% better than ones that don't!!
Now a few minor things…
No live chat…
I'd bet that they tested it and it wasn't worth their time or it decreased conversions somehow. Since rugs aren't THAT complicated, a live chat might be redundant. Notice Amazon does not have a livechat. No chatting… JUST BUYING!
Product reviews = more social proof
They have built up a very large database of products and this took them a lot of time. If you're smaller and don't have that many product reviews, try to incentivize the traffic you do have with coupons in exchange for leaving a product review.
Display savings front-and-center
Customers want to feel like they're getting a good deal, so if you're giving them a good deal, you should let them know! What's the point of having a closeout sale if customers don't know the original price? A $500 rug is expensive but if it was previously $800 it sounds cheap! Rugs Direct pulls it off by having the percentage saved on the thumbnail of every product.
Okay that was nice… but what about parts 2-5??
Get parts 2-5 in your inbox!
Looking forward to sending you the Rugs-Direct.com social media playbook next week 🙂