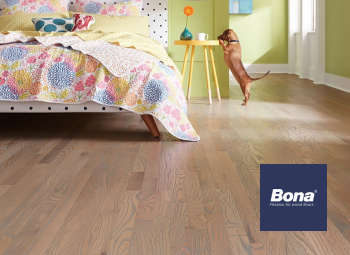 How Bona Floori Visualizer Improved Shopping Experience
Bona is a well-respected, family-owned company that has provided high-quality flooring products and services for over a century. Over the years, they have built a reputation for excellence through innovation and customer satisfaction. Nowadays, the company has doubled down on innovation with the Floori Visualizer.
With the use of AR/AI technology, Bona can provide a personalized experience, allowing potential customers to preview various floors in their space. This innovative tool not only improves customer satisfaction but also results in increased sales, as clients feel more confident when making a purchase.
In this post, we'll walk through why Bona chose to use AI/AR in their battle to improve the customer shopping experience, and why they chose Floori's Visualizer to accomplish exactly that.
What Challenges Did Bona Face?
The flooring market can be tricky when it comes to consistent sales. Things like competition, inflation, supply chain issues and constantly shifting trends are just a few of the factors that flooring companies are challenged with every day, including companies like Bona.
To stay competitive, they use the Floori Visualizer to help engage customers and help bridge the gap from idea to reality. The tool helps customers preview various flooring options by taking a photo of their space and immediately seeing what different hardwood stains and resilient flooring options would look like. This provides customers with more confidence to make their purchases without any hesitation.
How Does Floori's Visualizer Work?
When a photo is taken of an existing space, such as the bedroom or living room, or even a commercial space, the Floori Visualizer displays all flooring stain and resilient options from the company. As a result, the Floori Visualizer creates an accurate representation of what those products would look like in their home and helps bridge that imagination gap so many consumers have.
The visualizer also offers customizable options, like changing plank dimensions and selecting patterns, for a personalized flooring design. Users can create a floor that perfectly fits their preferences and complements their decor.
In the case of Bona Floori Visualizer, customers can create a unique and personalized look for their space by selecting coloration products from Bona's DriFast Stain Collection, Bona Craft Oil 2K, and Bona Waterborne Sealers.
But What Is The Floori Visualizer?
The Floori Visualizer uses machine learning-based AI algorithms to provide hyper-realistic visualization. The tool accurately calculates room scale and segments furniture for precise floor visualizations. Using high-tech AI, this feature is more accurate and detailed than other design tools.
Why Is The Floori Visualizer So Important?
The Floori Visualizer offers numerous benefits to both homeowners and contractors. 
As previously said, customers make faster and more confident purchases when they use Floori and as for Bona, their managers can manage products and access important insights with the Floori Portal, our content management system (CMS) that functions as the backend for our visualizer.
The Floori Portal provides analytics and insights on customer behavior and product performance. This information can be used to make data-driven decisions and improve business operations.
Moreover, providing a good shopping experience has become a key factor in the flooring market. Tools like Floori Visualizer lead to customer satisfaction and loyalty and higher sales.

Overall, the Floori Visualizer can help businesses stand out from the competition and increase sales by providing customers with a more engaging, personalized, and convenient way to shop for flooring products.
What's next?
Bona's success is a result of its commitment to innovation, technology, and customer satisfaction. Bona's use of AR/AI has led to an interactive shopping experience, boosting sales and customer satisfaction.
Likewise, to stay up-to-date on the latest flooring, coatings, and rug trends, follow us on our LinkedIn, Facebook, and Instagram pages. Don't miss out on our helpful tips and industry insights to help grow your coating business. Join our community today and stay connected for more valuable information!