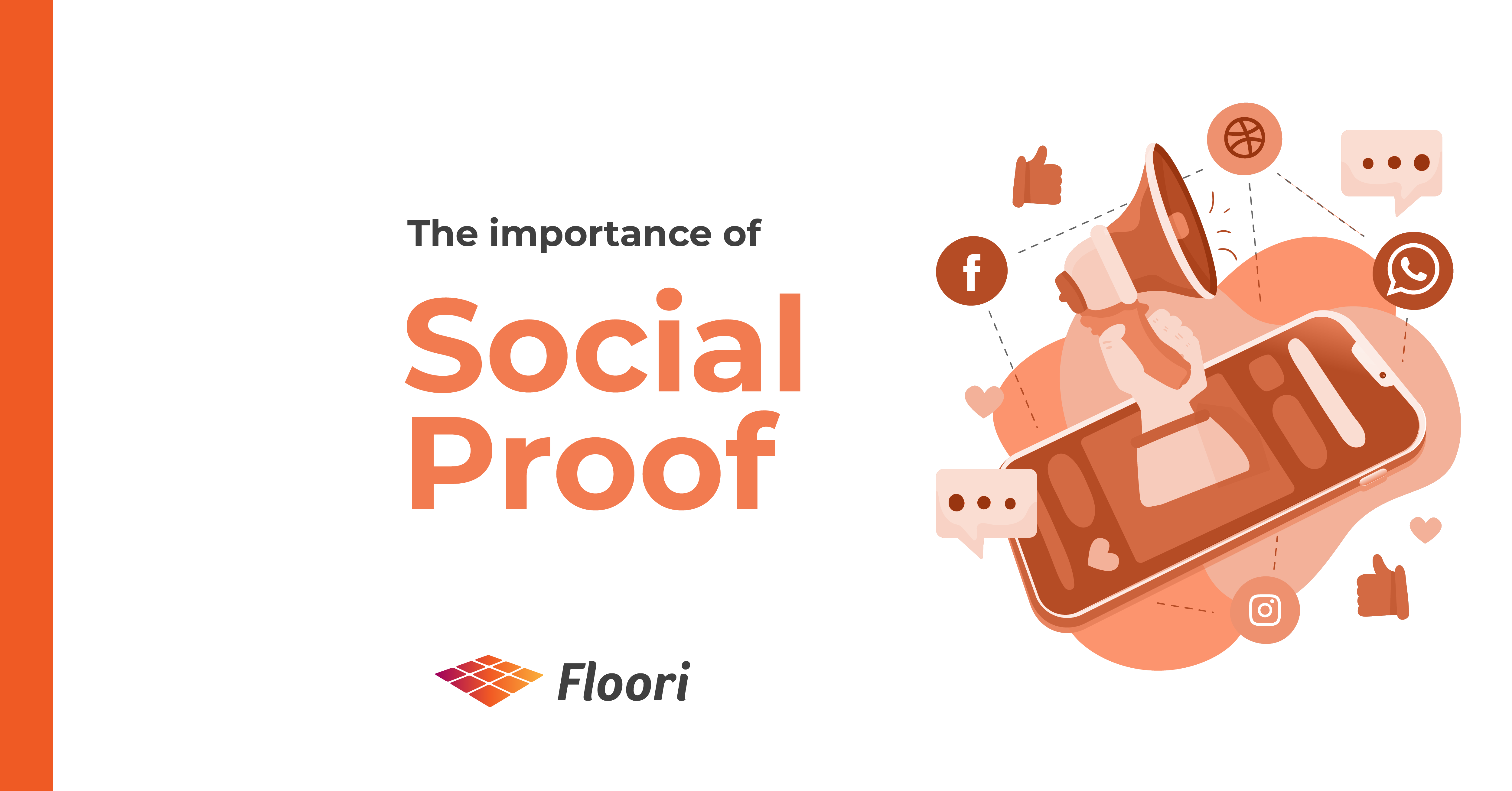 Why Is Social Proof Important and How You Can Get It
"The customer is always right". This is a sentence every manager has heard at least once in their life. That reflects how the clients have an impact on the business choices and credibility of the market. So, why not use this impact to build a stronger value over the competitors?
The home goods business can be very challenging when it comes to uniqueness and individuality. According to the US Census Bureau, in 2019 there were around 29,000 home furnishing stores. With that in mind, it's important for flooring business managers to stay aware of their customers' needs and build a strong institutional identity.
Social proof can be one of the ways a store can build a strong online presence.
But first things first, what is social proof? And why is it important?
The term can be defined as a social and psychological phenomenon that consists of the idea that people tend to follow the actions of others, especially when they are uncertain about a decision. In marketing this concept is rather used as a way to advertise products and services.
Nowadays, many companies use the idea of social proof to create content on social media and ad campaigns. In the home improvement industry, managers can collect their customer's testimonials in different ways. The first one is being able to drag more leads to the company. According to Publicis Sapient, 87% of buying decisions begin with research conducted online before a purchase is made. Many companies use social media and research mechanisms to market their products.
In addition, as previously mentioned, social proof can lead to a seemingly more trustworthy company. That comes from a potential customer seeing how well-rated a product is, they will gain confidence and interest in potentially buying. Given that, 83% of consumers say these recommendations make them more likely to purchase a product or service.
Moreover, the idea of a client-rating flooring product gives more content for the companies to explore online. Therefore, building a strong virtual presence and bonding with their community. With testimonials, many home goods companies create digital material for paid and organic content.
Finally, the reason to collect customers' feedback is for showcasing the results to employees. This leads to better thinking for administrative processes, such as sales and marketing strategies. According to Brain&Co, companies that focus on customer experience have revenue 4% to 8% higher than their competitors.
And how can you collect these testimonials?
When collecting testimonials from your customers, it is important to keep a few key points in mind to ensure that you are gathering high-quality, effective feedback that can help you improve your products and services.
One of the easiest ways to collect testimonials from your customers is via email or messages. Having this close relationship with your clients can lead to better communication and problem-solving. To approach customers in a better way, use a written message to thank them for choosing the company and explain why it's important to have this kind of information. Adding direct questions can also help with finding the best insights for the business. Here's a template with all these tips:
Subject: We wanna hear from you
Dear [Customer's Name],
At [Home Goods Business Name], we take pride in providing high-quality products and excellent customer service to our valued customers like you. We are committed to improving our products and services, and your feedback can help us achieve that goal.
We would be honored if you could take a few minutes to share your experience with us. Your feedback will not only help us improve but also assist potential customers in making informed decisions about our products. We would be grateful if you could provide us with a testimonial that we can use on our website and social media platforms.
Here are a few questions that may help guide your feedback:
What made you choose [Home Goods Business Name]?
What was your experience like using our products?
How did our products benefit you?
Would you recommend our products to others?
Please feel free to share any additional feedback you may have. We greatly appreciate your input and will use it to improve our products and services.
Thank you in advance for taking the time to share your thoughts with us. We value your business and look forward to hearing from you soon. 
Best regards,
[Your Name]
[Home Goods Business Name]
Using the template provided, reaching out to customers can be easily done while highlighting the importance of their input to the business. Flooring store managers shouldn't hesitate to take advantage of this powerful tool to improve their company's reputation and grow their customer base.
Interview
Also, a very good way to gather testimonials from clients is by setting up a meeting with them for an interview. When asking them questions about products and services, managers must stay aware of what kind of information they need and how their clients can help with the process. A good tip to ask the right questions is first to analyze how the client affects the product or service workflow, and vice-versa. The interview can also be used to ask for specific points to be improved in the business. These are some examples of questions:
What inspired you to work with our company?
What specific challenges or pain points were you experiencing prior to working with us?
How did our company and its services/products help you overcome those challenges?
What was your experience like working with our team?
Were there any particular team members who stood out to you in terms of their level of service or expertise?
How has working with our company impacted your business or personal life?
What results have you seen since working with our company?
Would you recommend our company to others? If so, why?
Is there anything you think we could improve upon in our services/products?
Do you have any other feedback or comments about your experience working with us?
Social Media
In the digital age, it is very common to post a review on every single service or product that exists. And that couldn't be any different for the home goods business. Services that require a big investment and can take time, like flooring or epoxy covering, are usually done after the customer researches the company and has references about the service. Therefore, rating on social media is very common. Platforms like Yelp and Google My Business are a huge part of the buying process.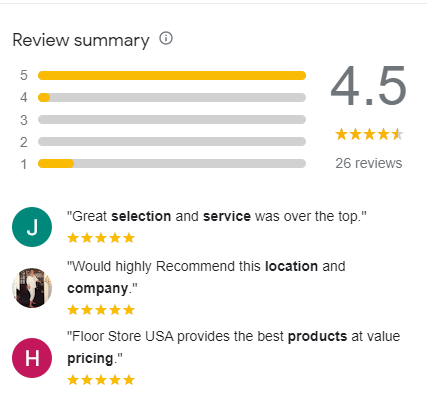 While positive reviews can serve as a powerful marketing tool, negative reviews, on the other hand, can provide valuable insights into areas that need improvement and allow businesses to address any issues and improve their services. It is important for home goods businesses to actively monitor their online reviews and engage with customers to show that their feedback is valued and to maintain a positive reputation.
After all that, what can you do with the testimonials?
As previously mentioned, testimonials not only can be a powerful tool for businesses looking to improve their reputation but can also attract new leads. By sharing positive feedback from satisfied customers, businesses can build trust and credibility with potential clients, and differentiate themselves from competitors in a crowded market. 
Post on social media
Electronic media are great platforms for home improvement businesses to communicate with potential customers and show them their products and services. So, sharing positive feedback on the company's social media is one of the most effective ways to attract leads and improve the community. This simple type of posting doesn't require too much effort and grabs the attention of most clients. An easy but very effective way to talk about the service's quality while bolding with customers.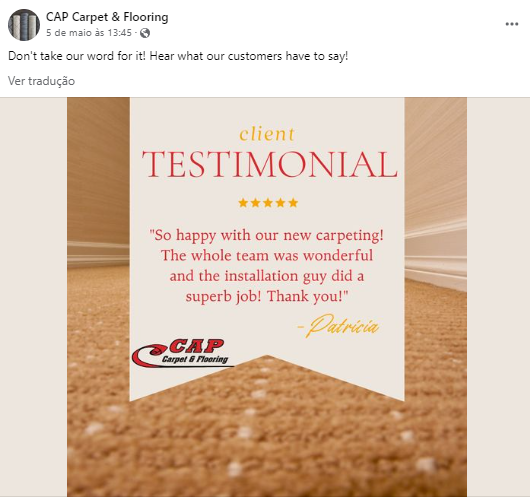 Use on website
As a similar reason to the previous one, adding testimonials to websites improves the home improvement company's credibility and makes the online page more visually appealing. Driving conversion to a website is very important to attract more sales, boost the SEO rating, and get more leads. Once positive feedback is posted, many clients will feel more confident with services. Here's an example: 
Add to paid ads
Another great way to use social proof is for paid ads. As mentioned, the power of testimonials can drag a lot of leads for home improvement companies that look for a boost in sales. Therefore, using positive feedback on paid ads, just like posting organically, is a simple and effective choice to improve to enhance the trustworthiness of the business, ultimately leading to higher conversion rates and revenue.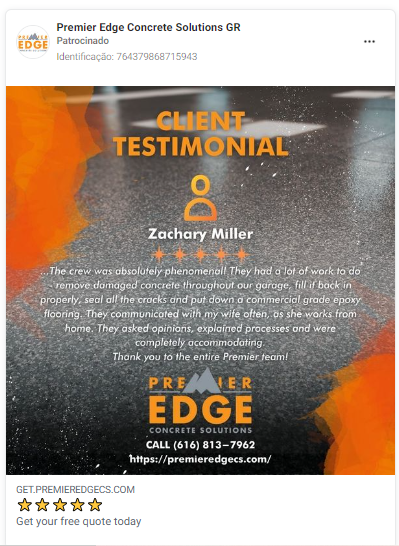 Develop into case studies
Finally, one of the best things flooring and rug store managers can do with their clients' social proof is to develop a case study. With this full in-depth document, much information can be used for internal processes and external marketing as a way to build up the company. The case studies can also be posted as a newsletter or blog article developing the organic content. On Floori's website, many companies have their own case study on how the visualizer helped them better the customer experience.
In conclusion…
Social proof is a very important part of a company's credibility and using it as a marketing tool is very effective. However, it is crucial to respect the client's privacy and make sure to get their permission before sharing their testimonials publicly.  Another tip is to always show gratitude for the gesture since they have no obligation and help the company more than them. The process needs to be smooth and easy without any pressure.
If you want to get updates regularly on the home goods market, follow us on our LinkedIn, Facebook, and Instagram. Stay tuned for more tips and information for your business!